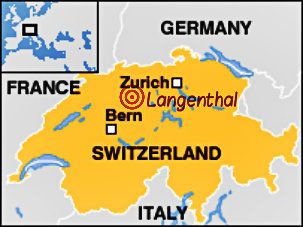 Shown here in the Ruckstuhl building as part of ECAL's 'low-tech factory' exposition during Designers' Saturday in Langenthal, Switzerland is the 'rocking knit' - a design that makes the transition to the winter season a little less onerous.
Students of University of Art and Design, Lausanne Damien Ludi and Colin Peillex created a chair that will fashion its user a beanie as they leisurely rock back and forth, activating gears that put the machine to work as it's sitter relaxes.
The project is in response to the exhibition's theme, where students were required to reinterpret the idea of manufacturing - deconstructing the fabrication process of a product to a slower, more considered pace. Designers' Saturday showcased the work in the Ruckstuhl carpet factory, appropriately surrounding the work by spools of thread and feverish machinery, connecting concept and real-world techniques in a meaningful way.
DESIGNERS' SATURDAY 2012
design is a statement
november 3rd - 4th, 2012
The first Designers' Saturday took place in Langenthal in 1987. Since then there have been 13 of these events to provide support for the Swiss design scene while giving it a publicity platform to stimulate its further development.
Designers' Saturday happens at a place where design is actually created. Designers' Saturday is not just a product show held on
characterless trade fair premises. Instead it is a stage where authentic design skills are put on view at the atmospheric production sites
of the companies involved.
The event is an international meeting point for the design world. the presentations of numerous internationally known firms will be
accompanied by the cartes blanches of both national and international colleges of art and design.