Lindsay Lohan during fashion week in NYC
Lohan in NYC showing off her busty bust
(Friday, Sep 16, 2011)
Damn, as if she hasn't gotten herself into any more trouble then she needs to be already, Lindsay Lohan continued her reign of destruction and upheaval during New York City's Fashion Week when she threw more than a tantrum at the V Magazine Black and White Ball at The Standard Hotel.
The Cut reports that without warning Lindsay Lohan stood up from where she was hanging out with a friend and threw a drink -- glass and all -- hitting a cocktail waitress.
Lohan's aim wasn't that great because she reportedly screamed at the waitress, "Not you, him!" pointing to a man in a white T-shirt.
That man was V magazine photographer Jasper Rischen who confirmed the incident when he tweeted:
"Wow. Lindsay Lohan is as trashy as they always say. She threw drinks and glasses to me as we tried to take a shot for @vmagazine. C.*.*.t."
Lohan must have found it horrible that a photographer who works for the magazine of the party she was attending would have the audacity to try to photograph her.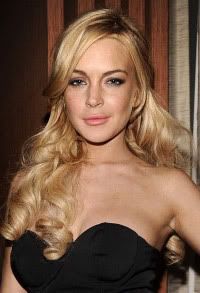 But the evening's drama didn't end there. According to The Cut, the 25 year old actress along with designer Cynthia Rowley and another friend moved to another section of the bar,
"sucker-punching a seemingly innocent bystander as she walked past."
And then in what might have been the strangest part of the night, the website reports that the bar's lights went up and the music went off, and a man yelled "She's bleeding!" The Cut explained:
Medics surrounded a brunette woman, lying with her black sheer-stocking-ed legs elevated on a white leather couch, adjacent to where Lohan had been sitting. When they lifted her up to place her on a stretcher, the back of her black dress was soaked in blood and broken glass, a security guard confirmed after she had been rolled out. By then, the crowd had thinned out.


Wild child Lindsay Lohan may be responsible for putting an abrupt end to




V magazine's bash at the Standard Hotel's Boom Boom room last night in NYC



According to the blog Scallywag And Vagabond, no one is sure if Lohan is to blame, but from the looks of it the woman was hurt badly. With Lindsay's history of legal troubles, she better hope it had nothing to do with her glass throwing antic because this is the last thing she wants to be involved in .
Lindsay Lohan Throws A Glass At A Photographer, Misses And Hits A Cocktail Waitress At Fashion Week Party
: