Donating gently-used mobile phones is simple and FREE! Every phone donated assists Cell Phones for Soldiers in its mission to provide free communication tools to service men and women.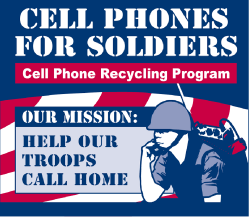 Donated cell phones are sold to recycling partner, ReCellular. The money received from recycling cell phones is used to purchase calling cards and other communication tools for the U.S. military.
Minimize weight and save on postage by mailing cell phones only. Batteries, chargers and accessories are not required but gladly accepted.
Rob and Brittany Bergquist, Founders of Cell Phones for Soldiers
Mailing Address
To allow the charity to provide more communication tools to our troops, you can help by paying for postage.
To pay for postage, simply mail your phone(s) to:
Cell Phones for Soldiers
C/o ReCellular
PO Box 9998
Dexter, MI 48130-9998