Los Angeles based clothing line, Andrew Christian, has been designing and producing contemporary collections of urban-inspired menswear since its inception in 1997. Andrew Christian presents fashion-forward underwear, swimwear, edgy tees, woven bottoms and accessories that are truly unique.
This year Andrew Christian released a line of "uber-trendy" printed men's underwear. The Gothic, Sport, Fashion, and Basics-themed lines are available in a range of styles from low and super-low-cut briefs, boxer briefs, and jock straps. Each style is intricately designed using nail-head studding and printed graphics, utilizing innovative fabrics such as sports mesh, sheer, and baby thermal for superior comfort and style.
Andrew Christian (born January 9, 1978 in Fresno, California)
Andrew Christian is not just an iconic company, but is backed by a real designer... Andrew Christian, one of the hottest reality stars. Andrew Christian played "Andrew" on Bravo's The Fashion Show, and quickly set himself apart from the other designers with his movie star good looks and winning out of the box designs. Andrew was also featured on The Janice Dickinson Modeling Agency seasons 3 and 4 on the popular Oxygen reality show.
One of Andrew's best sellers is his amazing line of technically advanced custom woven men's underwear. The underwear comes in 4 themed lines:
street

sport

fashion

basics
and are available in a range of styles including:
low cut

super-low-cut

boxer briefs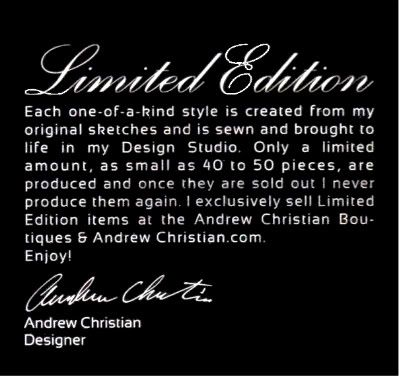 Each style is intricately designed using specialized dye treatments, printed graphics and innovative materials such as bamboo fiber, sports mesh, and patented moisture wicking cotton blends. Andrew is the first to introduce Anti-Muffin Top Elastic in his underwear designs, to reduce the appearance of love handles, and Flashback - Butt Lifting Technology. With Flashback one can create the illusion of having that much sought after "bubble butt" without having to waste hours in the gym as the construction of the underwear automatically lifts the buttocks making it look more firm and round. He continues to push the boundaries of underwear fashion by the release of "Almost Naked" the anatomically correct underwear for men and "Show-It" and "Shock Jock" both with front enhancing pouches.
Andrew Christian is not just about underwear, he has been producing contemporary collections of urban inspired menswear, swimwear, edgy tees, and accessories since its inception in 1997. However, it was Andrew's innovative underwear designs that established the company as a force in the fashion world. Andrew's designs can now be found in exclusive boutiques such as Kitson Men (Los Angeles), Fred Segal (Los Angeles), and Patricia Field (New York), to the "majors" including Harvey Nichols.
Andrew Christian's body enhancing and fashion underwear has been featured on Good Morning America, Fox News (National), Entertainment Tonight (ET), CBS News (National), MSNBC's Hardball, Yahoo, Daily Mail (London),The Wall Street Journal, Maxim, NY Daily News, Boston Globe, New York Magazine, Los Angeles Times, LA Weekly, Dallas Morning News and as far away as the Times of India.
Located at:
Flagship Boutique
This boutique features the latest and greatest creations from Designer Andrew Christian including Limited Edition items like his tanks and neck ties...that can't be purchased anywhere else...most can't even be purchased on AndrewChristian.com. So if you want hard to find Limited Edition items, the Flagship Boutique is a great destination. At the Flagship, Designer Andrew Christian has hand-picked from other designers items that he thinks are important in today's fast-paced world of fashion and compliments his own line. This Flagship was hand designed by designer Andrew Christian to reflect his own modern architectural aesthetic and features 2 swimmer mannequins diving in from the skylight overhead and an optic white wave wall behind the cash wrap and a bright red back wall that draws you into the experience.
All Andrew Christian products are Made in USA
.